Women's Summer Solstice is a labor of love–each year a handful of women step forward to give of their time, sweat, tears, and love to create this powerful event.
The Council meets monthly (by phone, video-chat or in person) working in accordance with the WSS Council Agreements.  Each member of the Core Council works with one or more women, creating committees, to address the various elements of the event . There are a few meetings a year when we welcome the larger WSS community to share feedback and give input into the planning process. In the meantime, feel free to contact us if you have a concern, a question, or an offering of your time and talent. If this work calls to you, we welcome you to step forward at the end of the next Women's Summer Solstice to get involved for the following year. The bonds crated by serving our sisters are truly one of the greatest gifts we can give ourselves.
Meet the Members of the 2018 Council
Emily Smith, Vision Keeper
It is my pure pleasure to care for this gathering daily–holding the energy, envisioning, and leading the Council.  My first Solstice was in 1999, and while I have missed a few here and there, the gathering instantly became a part of me. I am the woman I am, walking the path before me, in large part because of the transformational magic that is Women's Summer Solstice. I have served on the council off and on throughout the years—my most current service began in 2011. It is hard work—mostly joyous, sometimes heartbreaking, always enriching, and I am grateful for every minute of it. As the Vision Keeper, I have pledged to hold the pieces of the gathering together and to support the efforts of the Council and all the women who come forth to give to the community.
Thérèse Charvet, Bundle Carrier  
I have attended WSS since 2007, initially as a sweatlodge-pourer and later as the coordinator of the Rites of Passage ceremony. My partner Tere and I co-direct an eco-retreat called Sacred Groves located on Bainbridge Island where I run a 'Womens Mysteries School' so this stuff is near and dear to my heart.  This is my third year on Council. Although in past years I dealt with many left-brained tasks (Finances and Registration), my true passion is the ceremonies, which I believe are what brings us together at the heart and soul level and supports our wholeness and healing.  I will be involved in ceremonies and sweatlodge at WSS again this year, this time as Intercessor, or Chair of Ceremonies. I have committed much time and energy into WSS as my "service" on behalf of the Divine Feminine. I believe it is so important for women to come together in honor of Mother Earth for healing and rejuvenation.  And this event is unique in that it includes our girl-children who are our future; they need to know about the many faces of the goddess (their own too of course!) and the many ways to honor and celebrate ourselves as women.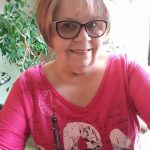 Lynn Kunkle, Ceremony
I started coming to Solstice in 2011 and found a feminine sisterhood that gathers each year to honor the Divine Woman inside us. In my professional life I am a Registered Nurse and work full-time. I am a Reiki healer and have studied the ways of the Peruvian Shaman. I like to crochet and read when I have time.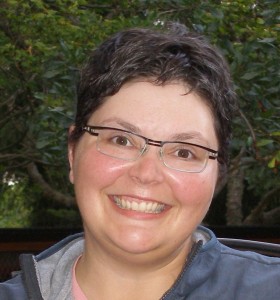 Jennifer Sundstrom, Registration
2009 was my first Solstice experience.  I had a bit of a chip on my shoulder when I first arrived, ignorant of the landscape and community, and I participated, with great trepidation, in my very first sweatlodge.  It was only months after the event that I realized how profoundly impacted I was.  My experience at Solstice Sweatlodge allowed me to shift my relationship with words like 'prayer' and 'faith' into something else, something deeper and more fulfilling in my life.  Magic happens at Solstice, and I get to be part of creating that magic with some of the most amazing women I know, whose talent, vision, and capacity for love rival the Goddess herself.  I welcome you and invite you to come and experience some magic for yourself.
Corinna Michels, Sacred Grounds
Corinna found WSS in 2009 and it has been her heart and soul ever since. She lives in Yakima, WA, representing our East Side Sisters, and works as a Family Nurse Practitioner at a community clinic. With every spare moment she can find she is out enjoying the incredible hiking, skiing, river, and of course, wineries, that Central Washington has to offer. She loves her home and she loves her WSS family.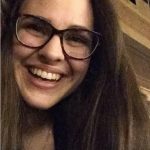 Siena Cairns, Amazon Lead and Sacred Grounds
I showed up to WSS by myself in 2016 after experiencing the loss of some grandmothers in my life. I had no idea what welcome, lessons, laughter, friendship, and abundance of grandmothers were in store for me here. I joined the council that year and have since stepped up to help weave the Amazon archetype back into the community. Outside of WSS I work at the other Amazon, lead grief rituals, and play music.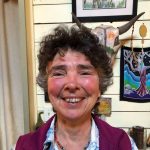 Tere Carranza, Sweatlodge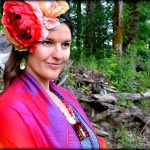 Elena Payanen, Queens Lead and Moonlodge
Even though I've heard "the call" of the WSS since 2015, I could only joyfully answer it in the sweet summer of 2017. I brought my three daughters with me, ages 7, 10 and 13.  We all fit right in and have been lovingly welcomed into a colorful village of the sisterhood. We felt being enveloped in the song, drumming, the deep soul nourishment and the way of  Beauty.  Seeing young girls and women of all ages, all walks of life and all colors coming together and merging in the song was lusciously powerful and deeply healing for me. Elena was born in Saint-Petersburg, Russia and has a Master's degree in Teaching and Arts. She is a mother of three daughters, a multimedia artist, a wisdom seeker, a yogi, a birth Doula, an Aikido practitioner and an Argentine Tango dancer. She is a certified One Circle Foundation Facilitator. Elenafacilitated Girls and Women's Circles for many years. She offered Girls Circles as an afterschool program at Sunrise Elementary; organized summer retreats for mothers & daughters; worked with private clients and led women's groups.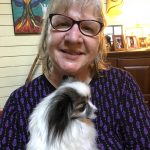 Jerri River Horse, Crone Wisdom Keeper and Community Outreach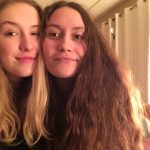 Ella Jones and Emily Fox, Maiden Council
Ella has been attending Women's Summer Solstice with her mother Katja and younger sister Saskia since 2014. Ella is an artist, and loves painting, photography and dance. She is an advocate for environmental rights. The Solstice experience is one she would recommend to any girl and woman, because being apart of this community is truly a wonderful thing, and she has found both support and love within ceremony.
Emily is 15 years old and has been coming to Women's Summer Solstice with her mom and little sister since 2009. Being exposed to this community from a young age has been incredibly beneficial, and the annual camp is always an empowering and memorable experience. Emily is passionate about writing, astrology, and political activism in her hometown of Portland, OR.
Maya Roxby, Fairy Goddess Mother
Kaia Roxby, Fairy Council
Dwynne Furberg, Marketplace Lead
Martha Soriano
Ada Danelo, Communications