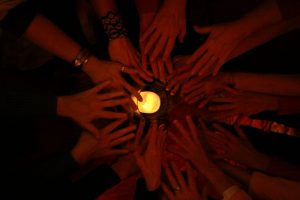 Women's Summer Solstice is a place for women and girls to share life together for a few days in an outdoor setting–connecting with sisters, daughters, mothers, grandmothers and with Mother Earth.  The event is held at a camp near I-90. east of Snoqualmie Pass, Washington State. During our time together, we gather in sacred circle to sing, celebrate, and honor each others' rites of passage.  We hold sweatlodges (in the event of a burn ban, we hold prayer lodges)  throughout the weekend and offer the opportunity to sit in a Moonlodge. There are informal workshops offered by participants and the opportunity to receive (and give) hands-on healing in our Wellbeing and Divine Beauty area.  The event also includes a marketplace where crafts-women offer their wares, and a "goddess garage sale" for passing along clothing etc.
This event has been happening annually since 1988, offering healing and connection to women and girls.  Each year new women are welcomed by those who have attended for many years. You can read more about the history of this event on our Herstory Page.
Women's Summer Solstice is produced entirely through volunteer efforts by women who believe in the value of creating safe and sacred space for women to gather, learn, play and celebrate the joy of "belonging." The WSS Council meets from October through June to organize the event, coordinating work-groups that attend to many details in the months preceding the event. In addition, everyone who registers is asked to contribute two 2-hour "service shifts" to help with the many tasks during the days of the event. (Exceptions to this are women who elect to pay the "luxury fee.") This event is truly carried by the love of many sisters who offer their time and talents on a volunteer basis to make it happen at an affordable cost to all. If you would like to get involved in preparations before the event, please contact us.
Diversity is honored in our community.  In this era of fluidity and transitioning around gender, we welcome a diverse circle, all in support of our Vision Statement.  To further clarify: we welcome female-born women and girls of all ages, races, cultures, spiritual traditions, styles, sexual orientations, as well as anyone who is living as a female on a daily basis and has "female" on her driver's license.  Baby boys, up to age 30 months are also welcome.
Come join the sisterhood!